Some random thoughtful/funny bits I collected over the years, and some pure entertainment

Humor
My life sucks (but the Simpsons make it even more right).
Technology
My favorite episodes of xkcd, a webcomic of sarcasm, geekness and language:

Introduction to Abject-Oriented Programming, a non-recent but all too timeless masterpiece about coding... and coders
Apple unveils single-use Macbook with zero ports (warning: includes clickbait)
Plug and Play
Plug and Play is not dead. If you're nostalgic about Y2K-era PC stickers, here's my own sticker about its evolution, which lives on in every PC running Windows: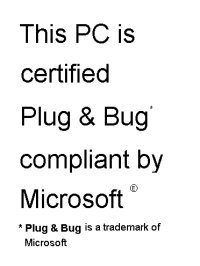 Quotes
Twilight of the Idols (1888), Maxims and Arrows, 7 (Wie? ist der Mensch nur ein Fehlgriff Gottes? Oder Gott nur ein Fehlgriff des Menschen?)
Jean-Jacques Rousseau wrote:
If, in spite of all this, the project remains unrealized, that is not because it is Utopian; it is because men are crazy, and because to be sane in a world of madmen is in itself a kind of madness.
A Lasting Peace through the Federation of Europe and The State of War, mid 1750s
Development
Walt West wrote:
The trouble with doing something right the first time is that nobody appreciates how difficult it was.
Tough Question
Computers Are Hard: building software with David Heinemeier Hansson
Wojtek Borowicz: You have also spoken in less than favorable terms about other trends that have emerged in software development, like microservices and serverless or Test-Driven Development. Are there any trends in software engineering that you actually find appealing?
David Heinemeier Hansson: That's a tough question. It's much easier to pick out all the shit that I don't like.
Geek (software)
Otavio Salvador wrote:
Microsoft gives you Windows ... Linux gives you the whole house.
Popular wisdom (via Tollef Fog Heen) wrote:
UNIX is user friendly, it's just picky about who its friends are.
Games
My favorite games
Board
Computer
Nature
Earth itself can already be astonishing, but I am amazed by the limitless beauty and complexity of wildlife. I am constantly fascinated by documentaries like Planet Earth.
To choose just a couple of many videos which I am grateful to have seen:
Poetry
The Solitary Chimney (political satire)